It's very easy to make containers clickable in WordPress using Elementor. It explains that adding an "a" HTML tag within a container makes the entire container clickable easily, directing website visitors to a specified link.




What is Elementor Container?
Elementor Container is a feature within Elementor, a popular WordPress page builder plugin. This feature allows users to create advanced layouts and website design structures using template kits and custom designs. A container in Elementor acts as a flexible and customizable box or section within a webpage, where you can add elements like text, images, buttons, iframe, and other widgets.
Make entire div clickable

Steps:

Are you looking to make a div or a column in your WordPress site clickable using Elementor?

It's simpler than you might think. Here's a user-friendly guide to turn your entire containers, div, or column into a clickable link, enhancing your site's navigation and user experience.
Steps to Make a Div Clickable in Elementor:
Step 1: Edit the Container

To make any container clickable, First click the primary container 6 dots center on top to edit the container.
Step 2: HTML Tag Selector

After you edit the container, you have to show the container setting on the left side. Go to the additional option and select the HTML tag dropdown selector option and select the "a" option. A link option will then appear below.
Step 3: Enter you URL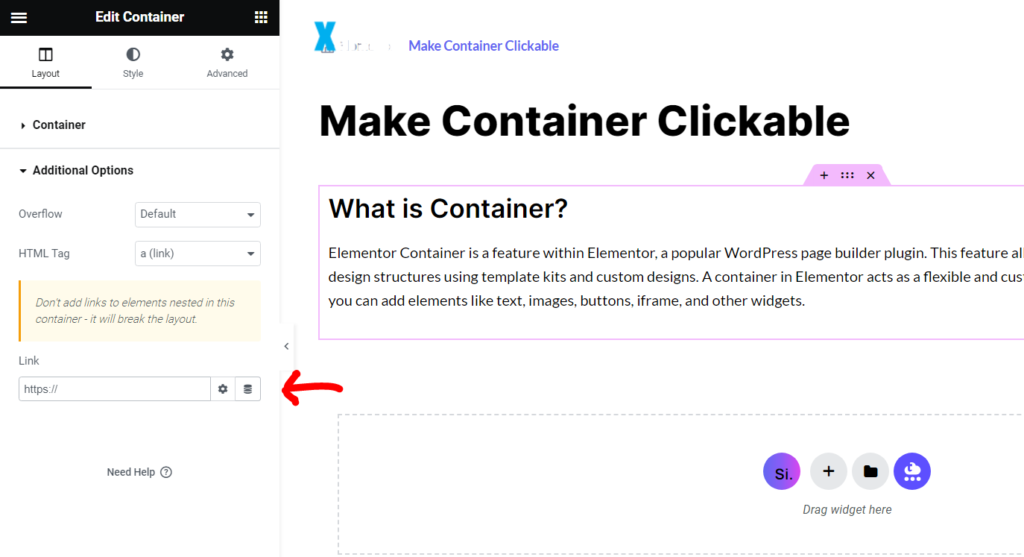 Enter your desired URL using the https:// in the link field or if your have Elementor pro then use the dynamic options by clicking the stack icon.
Additional Options
You can enhance your clickable div by choosing to open the link in a new tab, which is especially useful for external links. Also, consider adding a nofollow attribute if needed, or other custom attributes to suit your needs.
Avoid Nested Links
Here's an important tip – ensure that none of the child elements within your clickable container have their own links. Nested "a" tags can lead to technical issues, so unlinking any child elements is best before making your container clickable.
Following these steps, you can easily make your Elementor column link, or any div, a clickable link. This makes your page more interactive and improves the overall user experience on your website. Whether it's an entire div clickable or a specific column in Elementor, this method is a straightforward solution to enhancing your site's navigation."